Hidden Blade is cutting edge
From:CHINA DAILYAuthor: 2023-03-16 14:27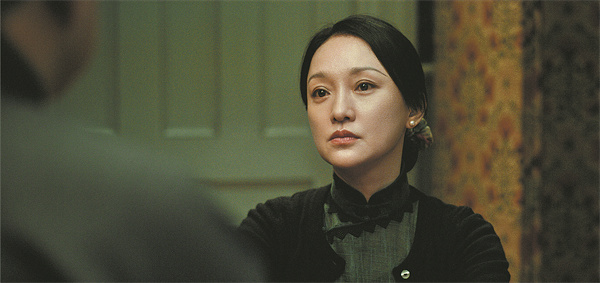 Hidden Blade, a Chinese spy film that explores the tumultuous period of Shanghai's wartime history, features a stellar cast, ranging from Hong Kong superstar Tony Leung Chiu-wai to actor Dong Chengpeng, more known by his stage name Dapeng, actress Zhou Xun and actor Huang Lei.[Photo provided to China Daily]
Despite not being a native of Shanghai, director Cheng Er has been enamored by the city in a way that is both historical and tranquil, with most of his movies set in the metropolis.
The latest outing of the 47-yearold director, Hidden Blade, once again turns the lens to Shanghai, immersing the audience in a sophisticatedly structured espionage thriller that pays tribute to the unsung heroes who risked their lives in the War of Resistance Against Japanese Aggression (1931-45).
With a stellar cast, featuring Hong Kong superstar Tony Leung Chiu-wai and pop idol Wang Yibo, the movie opened domestically during Spring Festival and has grossed more than $660,000 in North America since its overseas release in late February, according to the US website Box Office Mojo.
For most industry observers, the movie, alongside fellow Spring Festival blockbusters such as The Wandering Earth II, represents the effort of Chinese filmmakers to return to the global cinematic landscape after the country adjusted its pandemic-control measures.
Narrated in several overlapped timelines between 1938 and 1946, the twists-studded movie stars Leung as an intelligence agency's chief working for Wang Jingwei's puppet regime manipulated by Japan, and casts actor Wang as the character's subordinate. Set in a tumultuous era, the film explores how their true identities are gradually revealed as they navigate their dealings with the enemies.
The movie marks Cheng's return to his beloved Shanghai-set artistic suspense genre after a seven-year hiatus following The Wasted Times, a critically acclaimed movie that also revisited 1930s Shanghai. Its ensemble cast includes Chinese A-listers Zhang Ziyi and Ge You, as well as Japanese actor Tadanobu Asano.
A native of Jingzhou, Hubei province, Cheng graduated from the directing department of the Beijing Film Academy. Between 1999 and 2008, he worked in Shanghai and led a life that he describes as "comfortable, elegant, and leisurely".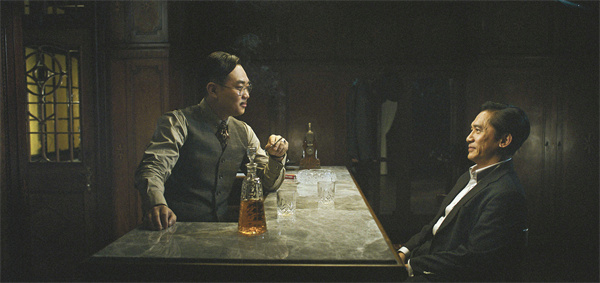 Hidden Blade, a Chinese spy film that explores the tumultuous period of Shanghai's wartime history, features a stellar cast, ranging from Hong Kong superstar Tony Leung Chiu-wai to actor Dong Chengpeng, more known by his stage name Dapeng, actress Zhou Xun and actor Huang Lei.[Photo provided to China Daily]
Spending much of his free time sipping coffee at cafes or hanging out with friends, Cheng recalls being captivated by the unique atmosphere of Shanghai, which led him to delve deeper into the city's history.
The historical chapter that fascinated him most was the city's complicated status during World War II.As it is depicted in the movie, Shanghai — then China's most cosmopolitan city — saw struggles and conflicts between Japanese invaders, its puppet government, resisting Kuomintang spies and the Communist Party of China's underground workers.
Although he has had a lengthy career as a filmmaker spanning more than two decades, Cheng has directed only four feature-length movies, making him known in Chinese movie circles for a unique style.
From his directorial debut Criminal (1999) to Lethal Hostage (2012) and the last outing The Wasted Times (2016), Cheng's films are mostly characterized by their art-film style, deftly structured suspenseful narratives, and nonlinear storytelling techniques. Through his works, the director explores the complexity of human nature and the impact of historical events on individuals.
So, despite having barely finished the script before the start of shooting, Cheng managed to attract some top stars to act in his films.
He recalls that Leung, one of the most sought-after Chinese actors, felt good while reading the script draft of Hidden Blade, which had just 30 pages, or a quarter of the regular length, after Cheng contacted his wife, actress Carina Lau Ka-ling.
After watching The Wasted Times in a Hong Kong cinema, Leung decided to collaborate with Cheng, traveling to Shanghai for preparations, including practicing his Mandarin lines, which was a challenge for the Cantonese-speaking actor.
Interestingly, Cheng, also served as the scriptwriter of all his movies, often revised the script or wrote new content for unfinished tales during the shoot, as he says he believes that the stress brought by the deadline gave him inspiration.
One example of the results of this unique "habit" is the character played by actor Huang Lei, who portrays a CPC underground worker that turns out to be a traitor.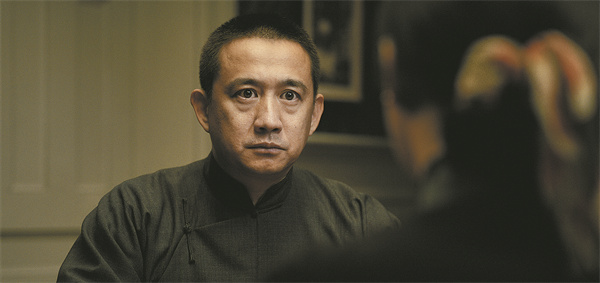 Hidden Blade, a Chinese spy film that explores the tumultuous period of Shanghai's wartime history, features a stellar cast, ranging from Hong Kong superstar Tony Leung Chiu-wai to actor Dong Chengpeng, more known by his stage name Dapeng, actress Zhou Xun and actor Huang Lei.[Photo provided to China Daily]
"I wrote some new scenes that amounted to around five to six pages. Then I realized that the story needed a new character to explain certain hints and twists. As a result, I 'accidentally' came up with my favorite scene," recalls Cheng.
In this scene, the character played by Huang, meets with Leung's spy chief character in a confidential meeting. The traitor wants to exchange valuable information for his safety and money to return to his rural hometown. In this subtle and tense atmosphere, both actors deliver nuanced performances, using their delicate facial emotions to reveal their unknown secrets.
Food, ranging from eastern China's delicacies to Japanese dishes and Western pastries, plays a significant role in the movie. The film crew constructed a kitchen on the set, recruited a chef who excels in Japanese cuisine, and reserved some delicacies from a restaurant known for cooking trademark dishes from Ningbo in Zhejiang province.
"Drunken shrimp" appears in two important scenes in the film, serving as a metaphor for the complicated humanity of both brutality and compassion. The typical Ningbo dish is made by immersing living freshwater shrimp in a plate of white liquor, or baijiu, and eating them with a special sauce.
"Many important moments in life happen at the dining table. So, in my film, dishes not only serve as food but also play a role in driving the story forward," says the director.
Currently, the movie has raked in more than 920 million yuan ($132.8 million) in China, making it the fourth highest-grossing film this year, according to the box-office tracer Beacon.
Edit:董丽娜
The copyright of the article and the picture belongs to the original author. If there is any infringement, please contact to delete it